The new frontiers of the digital world, including artificial intelligence, metaverses, gaming universes, cinema and audiovisual
Bari, November 10-12 Apulia Film House (Fiera Del Levante)
Creativity and innovation are the key words of ADE, Apulia Digital Experience 2023, the first international conference made in Italy dedicated to digital innovation in the creative industries, scheduled in Bari, November 10-12, at the Apulia Film House (Fiera Del Levante).
Three immersive days of exclusive and in-depth meetings with prominent figures from various digital and creative sectors.
The role of artificial intelligence in the world of media, art and creativity; the evolution of storytelling in the metaverse and the prospects for experimentation and growth for Italian and international businesses; the increasingly close connection between culture and video games, and the use of video games in education.
Not forgetting immersive content and the prospects that the digital world offers to the realms of art and all audiovisual aspects.
Apulia Digital Experience is organized by Apulia Film Commission and Rai Com, funded by the Puglia Region, promoted by Rai, and carried out under the artistic direction of Roberto Genovesi.
The opening day on Friday, November 10th – After the institutional greetings
by Anna Maria Tosto, President of Apulia Film Commission, ADE is dedicated to Videogames and High Culture, curated by Fabio Belsanti (CEO, AgeOfGames). It will explore the complex connection between video games and culture, with a particular focus on history. It will analyze how past and current generations are influenced and shaped by video games, consciously or unconsciously, within the vast space of the global market. Additionally, it will examine how High Culture, with its evolving definitions, intersects with history in the realm of contemporary digital gaming.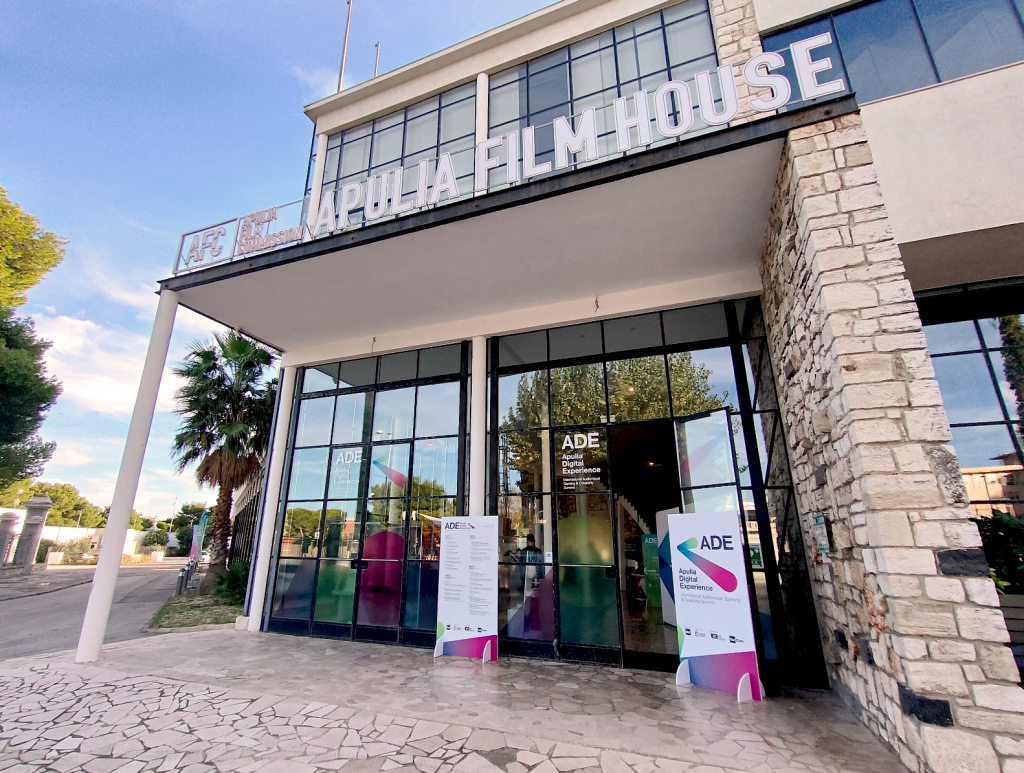 Among the participants of day 1, there are notable figures from the academic and video game worlds, including: Elisa Di Lorenzo (CEO, Untold Games), Marco Accordi Rickards (Advisory Board Member-devcom, Director-Vigamus Foundation), Matteo Celoro (Founder and Director, Noovola PR & Creative Communications Agency), Ennio De Nucci (Lead Game Designer, Creative Assembly), Marta Fijak (Game Design Expert & Creative Director, Anshar Studios), Raphael Perret (Studio ZB, Reiß & Perret GbR), Matteo Sosso (Lead Game Designer, Untold Games), Robin Zingarelli Longobard, Speakers: Antonio Brusa (Professor of History Teaching, University of Bari, Founder Historia Ludens), Annastella Carrino (Professor of Modern History, University of Bari), Elisabetta Todisco (Professor of Roman History, University of Bari), Claudia Villani (Professor of Contemporary History, University of Bari) Francesco Biasi (PhD Historical Studies UniSa, President-ArmaVirumQue A.P.S..), Mirko Campochiari (Founder, @Parabellum), Virgilio Ilari (President, Italian Society of Military History), Massimiliano Italiano (Researcher, Italian Society of Military History), Fabio Saksida (Military history researcher, ArmaVirumQue A.P.S.) Arnaldo Cecchini (Professor of Urban Planning, University of Alghero), Amedeo Feniello (Professor of Medieval History, University of L'Aquila), Lukha B. Kremo ( Founder, Kipple Officina Libraria & CyberScrivens), Franco Forte (Director, Urania Mondadori, Founder, Delos Books), Maico Morellini (Founder, CyberScrivens).
Saturday, November 11th – The second day of the event will focus on more industrial themes in the audiovisual, art, and media sectors. It will discuss the dynamic world of animation from the perspective of two innovation hubs in the industry: Puglia and the United Kingdom. A comprehensive view of tax incentives, funding opportunities, and successful cases will be explored, investigating the synergies and differences that make these markets unique and competitive on the international stage. The future of Italian visual effects in the global industry will also be analyzed. The program of conferences will conclude with the Digital Licensing Excellence Awards, the world's first award dedicated to digital licensing, an initiative by Licensing International and Licensing Italia created specifically to highlight new developments in brand spaces in the digital realm. Among the finalists, Rainbow will unveil the Winx Club – Avatar Creator App at ADE, Sanrio will present the game Hello Kitty Happiness Parade, the Italian startup Mash&Co will showcase their eponymous app. There is great anticipation for the three virtual influencers in the final round: true avatars that simulate the behaviors and communication methods of real-life influencers. Among them, the Apulian company Kabum with the Vera Wise project, Buzzoole with the Virtual Influencer Zaira, the Brazilian company Leghatum with the virtual version of Khaby Lame, the most followed influencer in the world of Italian-Senegalese descent. The finalists also include the Rai Cinema metaverse project and the Giro d'Italia metaverse, as well as the two native digital brands CoComelon and Blippi, managed in Italy by Maurizio Distefano Licensing. Among the speakers: Julian Scott (Animation Consultant, Film London), Massimo Modugno (Production Office Manager, Apulia Film Commission), Maria Elena Congedo (Founder & CEO, Congedo Culturarte), Giovanna Bo (COO, DogHead Animation), Michele Fasano (Founder, Sattva Factory), Angelo Poggi (Head of Animation IP, Digital Media & Int'l Co-Productions, Intergea), Giuseppe Squillaci (Producer, Director & VFX Supervisor), Leonardo Cruciano (SFX Supervisor & Concept Artist), Pasquale Croce (Founder, EDI), Guest Clip: Paolo Strippoli (Film Author and Director), Chris Darril (CEO & Founder, Little Sewing Machine), Diego Grammatico (Business Development Executive, Games London), AgeOfGames), Roberto Talamo (Literary Theorist, Teacher), Antonio Brusa (Professor of History Teaching, University of Bari, Founder of Historia Ludens), Paola Furiosi (Director, PwC Italy), Elisabetta Rotolo (CEO & Founder, MIAT), Raoul Carbone (President, Vigamus Group), Ledjon Dumi (Marketing & Communication Manager, Buzzoole), Maria Grazia Mattei (President, MEET), Lorenzo Incantalupo (General Manager, VIITTA), Franz Rosati (Artist), Matteo Occhipinti (Founder & CEO, Looking for Art).
The day concludes at 7:30 PM at AncheCinema in Bari, where, with free admission subject to seat availability, the international premiere of the animated family movie "Kid Santa" will be presented. The film is directed by Francesco Cinquemani, who will be present in the theater. Produced by Minerva Pictures Group and written by Mario Bellina and Andrea Fazzini, the movie features Alec Baldwin, William Baldwin, and Elva
Trill. "Kid Santa" is set during the Christmas season: Santa Claus is more stressed and irritable than usual. One night, he falls asleep in his office and wakes up the next morning in the body of a child. The young Santa, with the help of his brother Horacio and his niece Peggy, will try to find a way to become an adult again, rediscovering the true spirit of Christmas and uncovering who is trying to sabotage the holiday.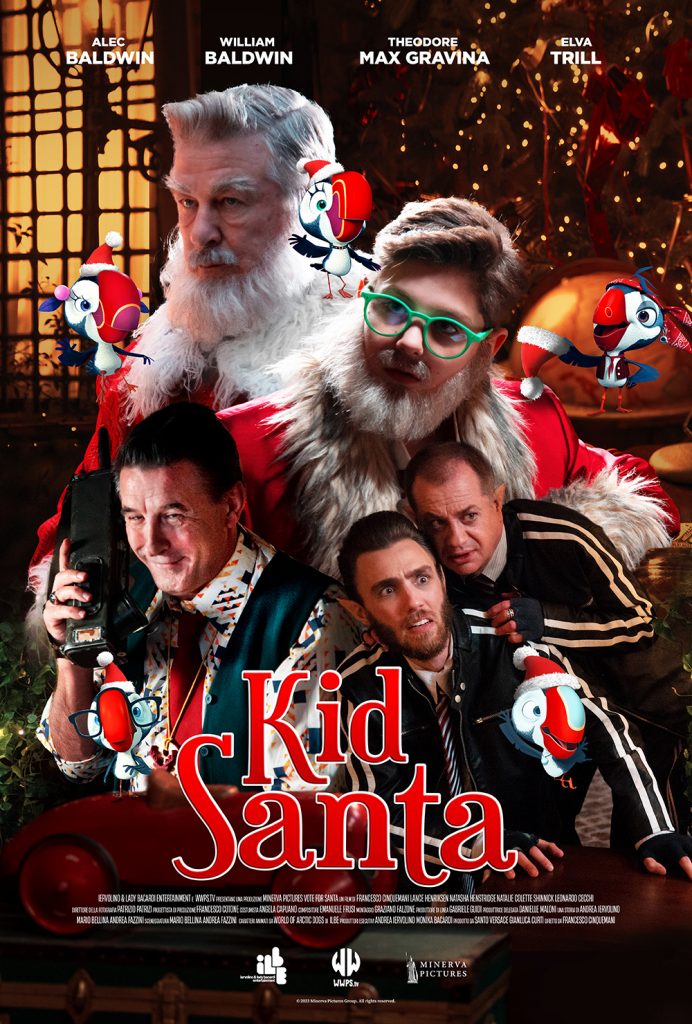 Sunday, November 12th – is the last day of the event starting with a greeting from the Artistic Director, Roberto Genovesi, and continues with an analysis of the role of digital technology in the audiovisual industries. This includes discussions on languages and the cinema in the digital age, focusing on Italian innovations and ethical dilemmas. It will also explore the impact of using artificial voices in dubbing. The day concludes with the award ceremony for the "Telling Apulia with Artificial Intelligence" contest, dedicated to Italian authors and creatives. This contest promotes the development of projects aimed at presenting, enhancing, and disseminating the artistic, cultural, and tourist heritage of the Puglia region through the creation of digital products based on the use of Artificial Intelligence.
Among the participants of the last day session: Daniele Barone (Education Advisor, Epic Games), Lorenzo Cosentino (Artistic Supervisor, Rainbow CGI), Elisa Di Lorenzo (Co-Founder, Untold Games), Pasquale Croce (Founder, EDI), Massimo Giuliani (Actor and Voice Actor), Emanuela Pacotto (Actress, Voice Actress and Singer), Daniele Giuliani (President, ANAD), Teresa De Santis (Media Professor at Unimercatorum, Former Head of Rai 1), Paolo Corsini (Director of Rai Insights), Marco Lanzarone (Head of Digital Radio & Podcast, Rai), Carlo Infante (President, Urban Experience), Giacinto Fiore (Co-founder, AI Week Italia), Luca Milano (Head of Rai Kids), Caterina Stagno (Digital & Transmedia Content, Rai), Nicola di Meo (VFX Supervisor & CEO, Unspace ), Giorgio Glaviano (President, Writers Guild Italia), Gianluca Pirazzoli (CEO & Founder, Time Multimedia), Omar Rashid (Co-Founder, Gold Enterprise) e Gianluca Fratellini (Animation Supervisor & Director).